26 February 2022 – A Commemorative Exhibit of Ian North's Works
"Seeking Love: The Journey" 
Ian North invited the viewer to derive their own meaning from his artworks, to discover their own story in his mixed media assemblages. North had a successful solo exhibition at SPAACES in February of 2021. The day the exhibition closed he suffered a fatal heart attack. His talent extended far beyond the visual arts. North was a musician and songwriter, releasing groundbreaking music in the '70s and '80s. He was a Sarasota community icon, well respected for his visual art and music contributions. To commemorate his art and his life, this show will exhibit a collection of his life's work and the art card collection he lovingly created for his wife over the last 21 years. 
Saturday Brunch Reception: February 26th, 2022 | Saturday  12:00pm – 2:00pm

Three Day Only – Open Gallery Hours: February 26th – 28th, 2022 | Saturday, Sunday, Monday 10:00am – 3:00pm
Ian North
Ian North was born in Brooklyn, NY in 1952. His urge to create started at an early age. He made wire "action figures" to fight against his toy soldiers at age ten and two years later he made his first sculpture by welding pieces of plastic together with heat from a candle. In junior high, a very astute art teacher enthusiastically told him "his watercolor looked like a Van Gogh and she would put it in the school art show". Her acclamation was enough encouragement for Ian to continue art classes throughout high school. For his final senior high school project, he created the sculpture "Light Bulb Man" (on exhibit at SPAACES Gallery).
Ian's early creativity went beyond the visual arts. During his adolescence, he wrote "Twilight Zone" stories, he started playing the guitar and writing songs and he created a poetry journal, titled "Reflections On A Cold Monday Morning" and he began experimenting with mixed-media assemblage using canvasses covered with tin foil and paint. He was co-editor of his high school's literary magazine.
Ian said "I have always had this urge to create even when I had no idea what I wanted to create. I never thought of myself as an 'artist'. It was not a choice; it is just who I am".
When Ian was in his twenties, he pursued a music career and released several albums. He recorded his first album with his band, Milk'n'Cookies, and his second album "Ian North/Neo while living in London between 1974 and 1980. When he returned to New York he recorded the album "My Girlfriends Dead" resulting in an appearance on MTV for his music video "Only Love Is Left Alive". (see Wikipedia for additional information about these albums and others). Throughout these busy music years, he continued to expand his portfolio in the visual arts.
Ian's lack of patience for drawing and painting drew him to the immediacy of collage and mixed media assemblage. Although, this did not turn out to be an art form that he executed quickly. He works at a glacial pace – tearing, disassembling, fabricating, or searching for objects or parts – for a vision and/or idea to unfold. Several of his pieces took decades to create no matter how simple the result. He will often hang unfinished pieces on a wall to look at, to contemplate and to "live with" before he will call it "complete".
Ian's upbringing in the New York City area exposed him to the works of many famous artists who inspired and influenced many of his future compositions. He developed a lifelong love of Joseph Cornell's boxes while visiting the Brooklyn Museum at the age of 14. And a few years later, at the Museum of Modern art, he discovered the work of Bruce Conner which informed most of his work. Other influences include Robert Rauschenburg, Cy Twombly, Ed Keinholtz, and Jasper Johns.
He continues to create art and music to this day – he just cant stop.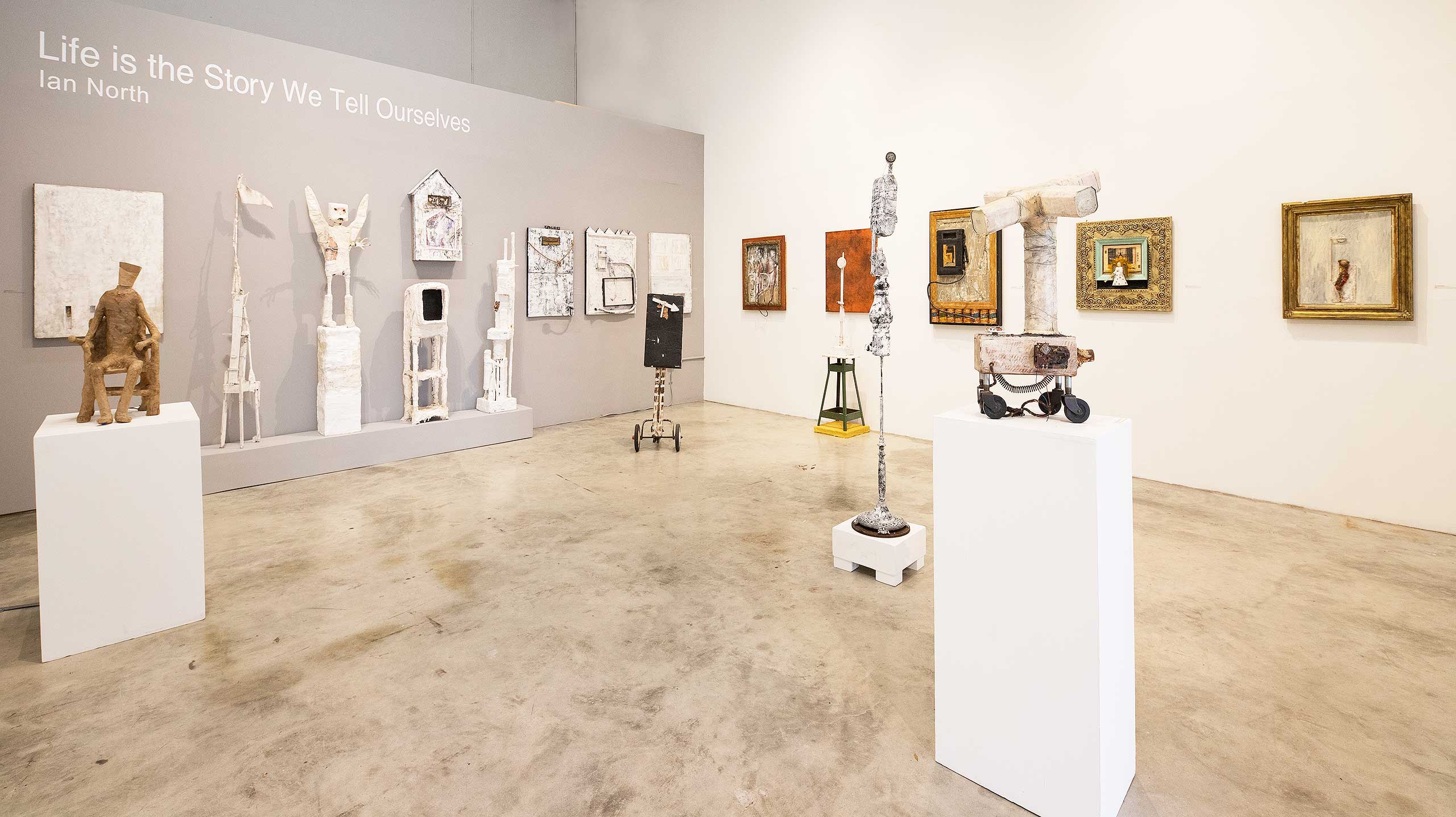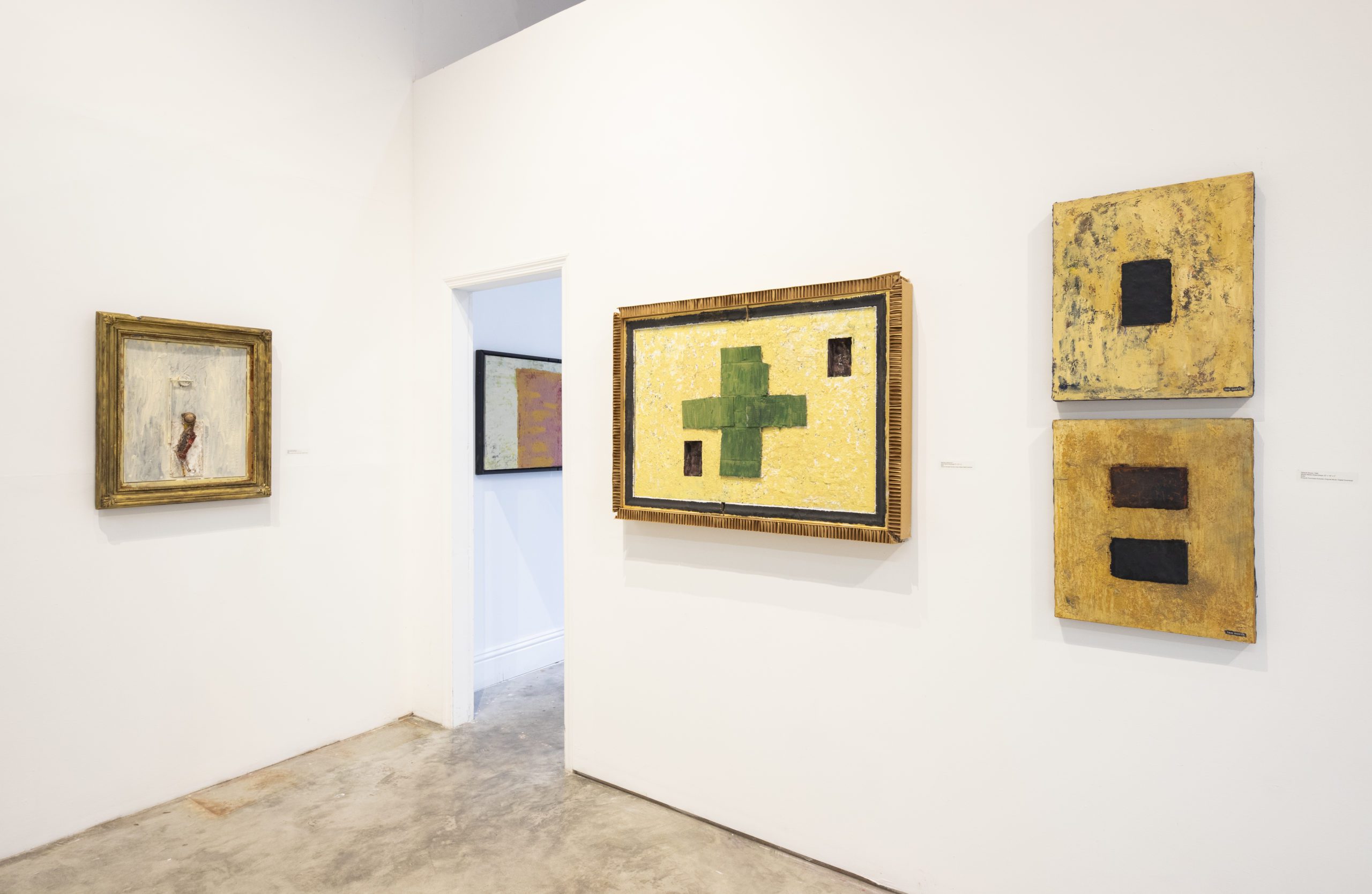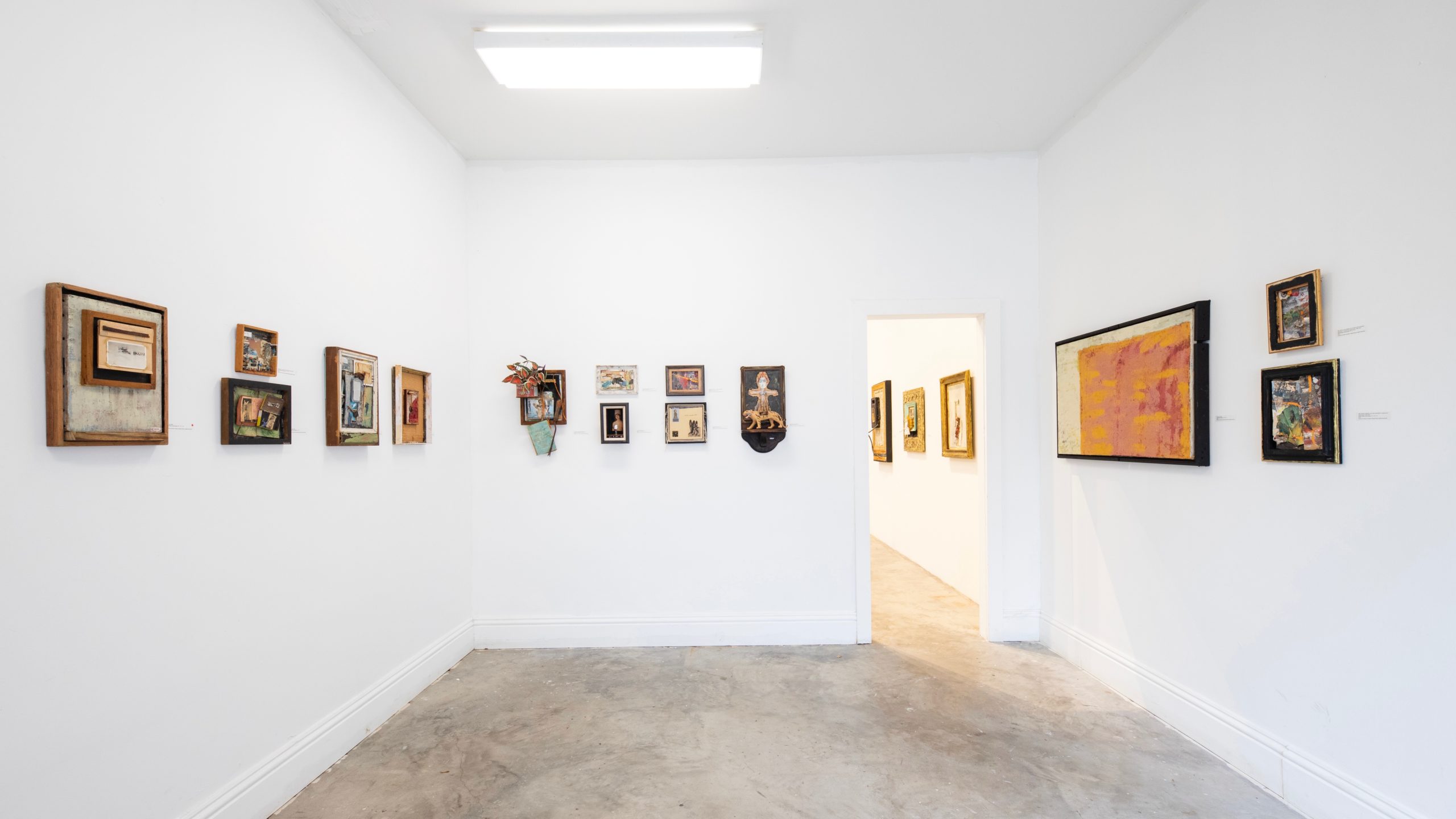 Ian believed in the SPAACES mission of supporting local and emerging artists by having a space for them to show and sell their work. Promoting art and artists was a personal vocation to Ian. It was very important to him that all people had original artwork in their home, which is why he priced his work so affordably and just one of the many reasons why his art exhibiton at SPAACES was such a huge success.
We need more art advocates like Ian North.
Thank You for remembering Ian with a gift to the SPAACES Foundation.