Meg Pierce
Meg Maher Pierce grew up in the Buffalo area. A graduate of the College of New Rochelle, she went on to gain a Masters in Art and Art Education from Columbia University, NY, NY and a MFA in Painting from Pratt Institute, Brooklyn. She was a teacher of art the Herricks Schools, New Hyde Park, on Long Island from 1969-2001 and found teaching to be an extraordinary source of energy and pride. She lost her beloved husband Vernon Pierce in 2008, and she now devotes herself totally to her art practice in Sarasota, Florida.
Pierce works with hand stitching, mixed media, installations, collage and painting featuring vintage fiber, silk flowers, leaves and found objects. She stitches on traditionally feminine found vintage linens such as handkerchiefs and tablecloths. She honors the work of the anonymous women who have left us an art of subtlety and quietude. The art they inspire celebrates the peace, delicacy and nuance that still exists in our brutal age. Other influences are the richly decorated Indian "palampore" bed covers of the 18th century. Beyond a nostalgic appeal of historic fiber, she aesthetically responds to the delicate variations of color and line of embroidery and lace. She do not use these resources ironically. She has come to own this delicacy and its floral femininity as formal qualities.  She finds inspiration in the complex patterns of vintage lace, its feminine aura and textural richness.
Hand stitching has become the substance and form of Pierce's daily life.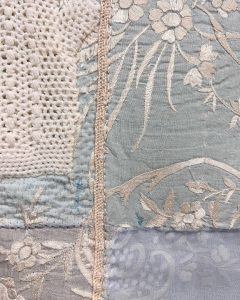 The hours spent are creating peaceful and complex expressions of interior life in thread. This body of work creates a complex visual experience. But on another level the stitching, fabric, lace, string, pins and layers of paint are also her metaphors for interior life. Our spirit is constructed year by year with levels of experience and feeling. They become woven together and defend our center. The intricacy of this web often remains hidden, discovered only upon careful reflection.
" I feel that in this later work I have found a way to align a contemporary aesthetic with a deep personal expression of my history and self: a delicate, meditative and peaceful art." – Meg Pierce
You can see more of Meg's work on her website at  https://www.megpierce.com/