I'm Not From Here, I Just Live Here
I'm Not From Here, I Just Live Here | Michael Adno
December, 2019

The eternal question of what makes a place a home often leaves us irritated. We feel around in the dark, trying to ascribe some words to it, some sense of history, some meaningful narrative about belonging, but ultimately, the notion of home amounts to a sort of silence. For the past ten years, I've lived away from what I consider home, but by proxy made homes elsewhere in New York City, New Orleans, and Vienna. In July this year, I moved back to Sarasota, hemming myself into a home here to change pace, reassemble my sense of direction, and to be close to family. And over the course of a decade, that question of what made Sarasota home haunted me. After so many years away, thinking carefully about this place, I wanted to put together a deeply personal body of work to show here in Sarasota, a body of work that took up my own personal belongings, my little corner of the world, and my work as a writer and photographer as a departure point. I carried that all into a studio, making these large-scale photographs composed of all those things. In one way, this was an earnest attempt at fumbling around in the dark for some syllables and stories that amount to some understanding of what it means to belong somewhere. In another way, it seems like an earnest attempt to better understand what lends a place its character, what makes a house or set of acres feel like home, and maybe it was just a way to think about what it means to return home.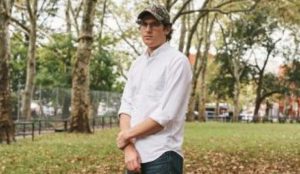 Born in St. Petersburg in 1990, to parents from Austria and South Africa, I grew up in Florida with little ties to the place besides the fact of being born here. In the past ten years, I worked as an artist's studio manager then as a grant writer and archivist before becoming a writer and photographer. Over the past few years, my work has been supported by the Jacques and Natasha Gelman Foundation and nominated for the Smithsonian's Artist Research Fellowship. I've been lucky enough to be invited to residencies at the Lower Eastside Printshop as well as the Key West Literary Seminar. And more recently, a story I wrote about Ernest Mickler, the author of White Trash Cooking, and the effect AIDS had on men in the rural South won a James Beard Award.
I work regularly for the New York Times, the Bitter Southerner, and the Surfer's Journal among other magazines, where I've written predominantly about the South. Since 2018, I've been working on a book about the effect of a severe traumatic brain injury on my family, and this coming year, I'll start work on a film about Sarasota's spiritual community that grew out of a story I reported for the Times last year.
Visit Michael Adno's Website: http://michael-adno.com/