SPAACES Kick Off
March 1, 2019
M. Chapel Projects is excited to announce a Kick Off Party celebrating its official rebranding to SPAACES, the beginning of its campaign as a non-profit modeled organization, and the opening of two solo art exhibitions by local Sarasota artists. The Kick Off Party, a multi-tiered event, will include the release of the new campaign's crowdfunding video, the build-out of 3 brand new and available artist studios and gallery, and solo art exhibitions by Claudia Ryan in the original SPAACES gallery, and by Marianne Chapel in the new Studio One Gallery.
Passionate about forming inspiring creative spaces for artists, Marianne Chapel, a local artist and art instructor at Ringling College of Art & Design, founded SPAACES in 2018. Since then she has been working diligently on the evolution of SPAACES as a unique artistic microcosm, fulfilling the need to provide artists with a world to call their own.
"Art studios and communities are essential to the artist's life." say's Chapel "The sharing of ideas, the environment of self-discipline, the professional work habits, and the time and place for creativity are crucial to an artist."
There is now such a place! SPAACES offers affordable art studios, collaborative workstations, and a gallery-setting exhibition space in the downtown area of Sarasota, Florida.
About Claudia Ryan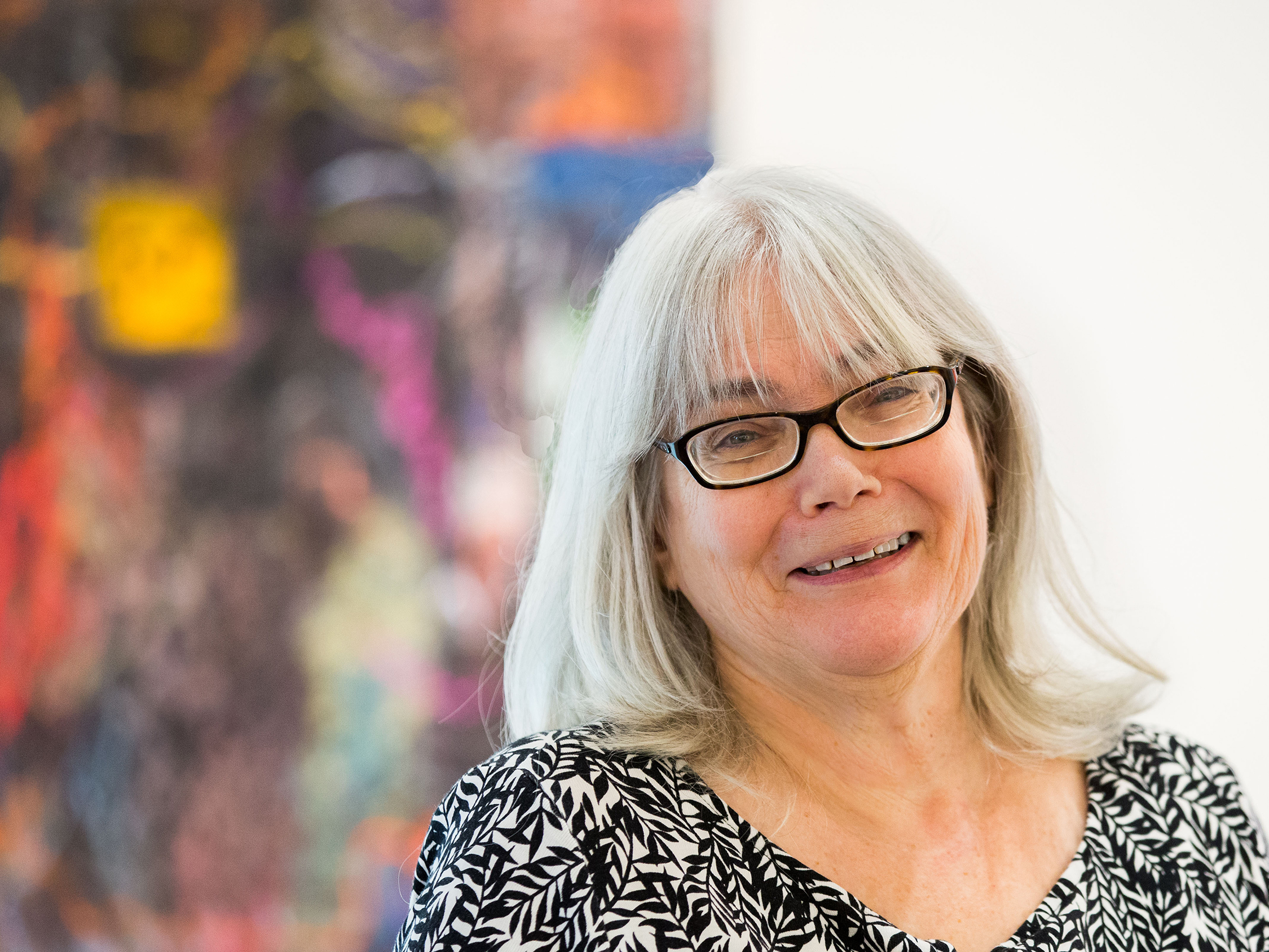 Claudia Ryan does not start her paintings with a final image in mind. Having a preconceived idea of her finished work is restraining to her. Similar to Action Painting or Abstract Expressionism, Ryan's process is one of movement. Her spontaneity involves trust, intuition and a willingness to take risks. As she applies thick oil paint, she observes as intuitive abstract shapes and linear configurations form on the canvas. She works with layers of paint relentlessly, until it's "right," creating a dense, rich surface. Ryan's free flowing, unplanned elements enhance her paintings. The result is curved lines, dripped paint, a gestural surface and emotional energy the viewers automatically relate to. The primitive mark making recall an extended history of shared past experiences, emitting feelings of excitement, drama, or adventure.  While she works similar to an action painter, her work is not non-objective. The viewer often finds representational imagery in her work. Her paintings have figurative elements, such as girls faces with long flowing hair and stick figures. There are also symbols, such as plus signs and letters, embedded into the dense paint. Ryan does not want to be restricted and enjoys the freedom to choose her actions based upon how things feel and evolve. Similar to her process, Ryan does not want to have an explanation prepared to inform the viewer as to what the work means. She encourages fantasy and intuition to be the viewer's guide.
Claudia Ryan has shown her work at Clayton Galleries, the Lois and David Stulberg Gallery, The Ringling College of Art and Design, The University of South Florida and the Tampa Museum of Art. She is in permanent collections, including: Hillsborough Community College, Tampa Museum of Art, The Museum of Fine Arts.
About Marianne Chapel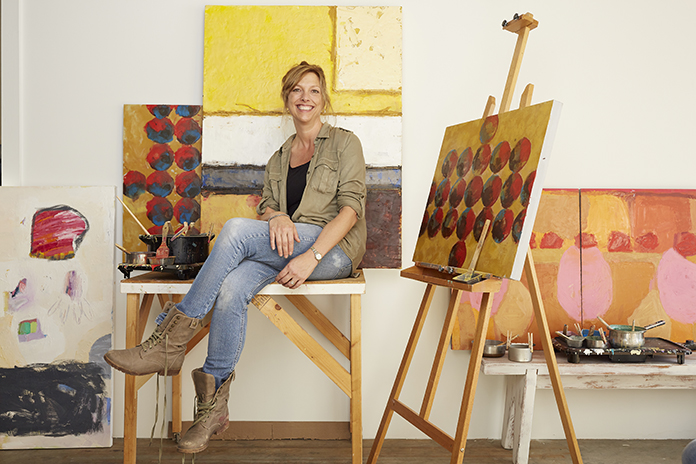 Marianne Chapel's recent series, Construction Reconstruction, include encaustic wax paintings and mixed media sculptures. Construction Reconstruction is a wide-ranging exploration of modern issues in urban development relative to environmental, individual and societal requirements. Chapel refers to Maslow's hierarchy of needs and whether they are satisfied, or not, through national policies regarding territory, and country and citywide infrastructure. She is interested in bringing to light environmental issues in the construction business and the disparity in building advancements between populations of poverty and wealth in reference to safety, security, health and wellbeing.
Chapel focuses on the first tier in Maslow's, Hierarchy of Needs, the physiological need.  Physiological needs are biological requirements for human survival, e.g. air, food, drink, shelter, clothing, warmth, sex, sleep. If these needs are not satisfied the human body cannot function optimally. Maslow considered physiological needs the most important as all the other needs become secondary until these needs are met. Chapel believes worldwide borders hinder the fulfillment of physiological needs for many people. The abstract geometric patterns in her work describe political and geographical land masses, the entities that control them, and the physical and emotional spatial systems created by territorial dividing lines. These exclusive spaces can be national borders or undefined, unspoken city neighborhood barriers. She is interested in the way political arrangements establish zoning to benefit different class systems and/or cultural groups. Her paintings reflect established boundaries, aerial views and territories, both national and citywide. Chapel's encaustic wax paintings are created by fusing together layers of encaustic wax to create a relief-like texture referring to natural borders, geography and topography.
Chapel's process reflects the physiological need for nourishment and sustenance. In her practice, Marianne uses pots and pans, hot plates, heating, and stirring, as well as following recipes for paint making, imitating the nurturing act of preparing food. Melting the medium of wax also refer to the long-term effects of climate change on urbanization. The body of work, Construction Reconstruction reflect the problems of traditional development, articulating the inappropriateness of conventional models of borders, city planning and construction that have led to increasing poverty, debt and ecological disasters. Chapel hopes that her work will encourage meaningful reflection about one's individual and community situation, leading to critical awareness and, possibly, action.
Marianne Chapel has her Masters in Fine Arts Painting from Indiana University. She has been instructing art at the college level for over 20 years, currently teaching at the Ringling College of Art & Design. She has received multiple awards and her work has been shown in numerous solo and group exhibitions which include the Gaze Modern, Gainesville Fine Art Association, 621 Gallery, C. Emerson Art Gallery, Keating Center, Ringling School of Art & Design and many more.
About SPAACES
SPAACES is a visual arts organization dedicated to supporting artists by offering affordable art studios, quality exhibitions, and an encouraging, creative environment. We specialize in high caliber, new forms of art and provide collaborative space for exciting community projects. SPAACES makes a profound difference in the lives of the artists who participate, empowering their artistic voice through professional development, worldly exposure, and intellectual exploration.
SPAACES is Sarasota's home for visual arts studios and collaborative art programming. We nurture a vibrant arts community, foster artistic excellence, and bring people together for powerful shared experiences that inspire a creative exchange of ideas. SPAACES is a unique artistic microcosm in the Sarasota visual arts landscape, moving Sarasota up the ranks in art tourism.
SPAACES is a project of the nonprofit fiscal sponsor Fracture Atlas (www.fracturedatlas.org). Fractured Atlas is a resource that empowers artists to succeed as entrepreneurs. It provides the business infrastructure and 501c3 status that makes it easier for artists to bring their unique projects to fruition. Fractured Atlas describes itself as an "artistic liberator", because it handles some of the back-office functions that are necessary to run a business, freeing the artists to focus on bringing their creations to the world.