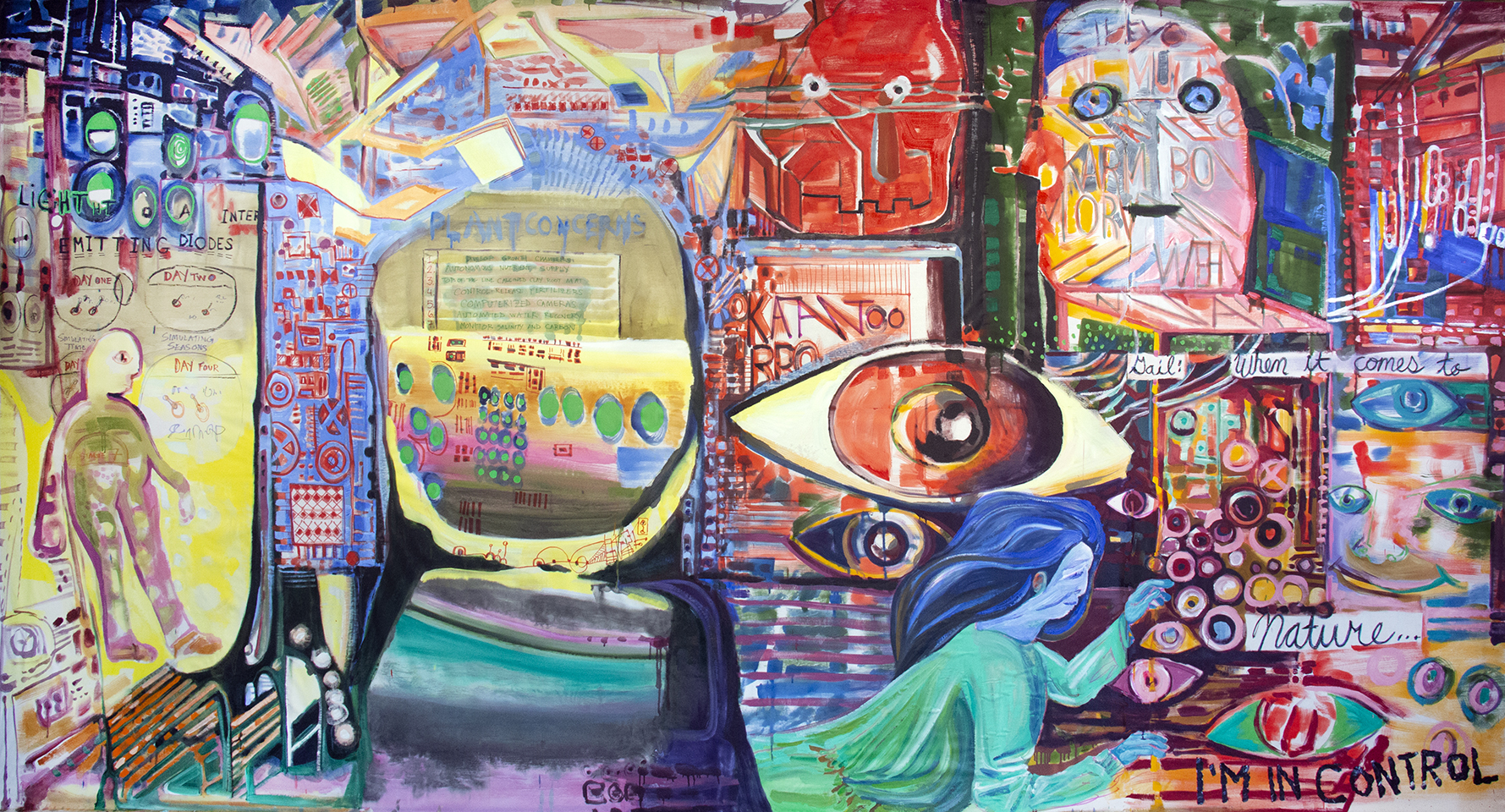 Hold Me Down
Michael Covello and Elizabeth Schneider
SPAACES is pleased to launch it's 2022-2023 Season November 3, 6 – 8pm with Artists Michael Covello and Elizabeth Schneider in  "Hold me Down."
Exhibition runs from November 4 – 19. Gallery Open Hours Thursday, Friday, Saturday 11 – 3 or by appontment Contact: 941-374-3492 or marianne@spaaces.art
This exhibition features animations and paintings that interweave scientific research and fictional storytelling.  The animation, titled "Hold Me Down," is about an astro-botanist on a mission to colonize Mars. We follow her downward spiral fueled by scientific hubris as she pioneers methods to remove plants from nature and embed them into technology. It is part of a larger body of work they duo call "Anthropology Anthology," a collection of animated shorts, screened and exhibited internationally, about tragic yet brilliant people surviving the near-dystopic landscape of the Anthropocene. 
Covello and Schneider use traditional drawing and painting as the foundation for all their written, digital, and time-based work. Included in this exhibition are large-scale immersive banner paintings that utilize similar imagery explored through different materiality, striving for simultaneity instead of a narrative unraveling.
Past Exhibitions
Missed one of the exhibitions here at SPAACES? No worries, here is our list of all the past exhibitions that we've had. To read more about a specific exhibition, click on the title links below.
2022
November
 "Hold Me Down" Collaborative Duo Elizabeth Schneider and Michael Covello
May
"Ah Who Run Dis" A Solo Exhibit by Krystle Lemonias
April
"The Queue: Beyond the Surface" A Solo Exhibit by Nneka Jones
March
"Properties of Ground: Post (post) Painterly Abstraction" A Two Person Exhibit with Michael Crabb and Tom Stephens
February
"No Justice, No Peace" A Solo Exhibit by Allan Mestel
"My Beautiful" Ringling Student Jesse Clark in Annex Gallery
" Seeking Love: The Journey" Ian North Memorial Exhibit 
January
"The Language of Ephemera" A Two Person Exhibit with Sally Pettibon and Eszter Sziksz
2021
December
"Compose, Recompose, Decompose: Forming Social Constructs" A Three Person Exhibit with Kate Hendrickson, Mary Grandpre, Kathy Wright
November
"Shifting Perceptions" A Three Person Exhibit and Panel Talk with Diana De Avila, Julie Kanapaux, Jessica Mowery
October
"The Original Purpose has Slipped our Memory" A Solo Exhibit by Vanessa Diaz
May
"Door in the Ceiling" Ringling Student Exhibition
April
" Rough Around the Edges" Curated by Taylor Robenalt and Laine Nixon
March
"Greetings From Quarantine" Curated by Sophia Coscia
January
2020
November 
"The Woods" Emiliano Settecasi
August 
February
"Unearthing the Understory" Kenny Jensen:
"Genetic Displacement" Alisa Hodzic and Rohini Maiti
January
"Respite" Jennifer Leigh Jones
2019
December
"I'm Not From Here, I Just Live Here" Michael Adno
November 
"The Salon II" An All Inclusive Group Exhibitions
April
"Conception of Perfect Beauty" Teneé Hart
March
January
2018
November
"Le Salon Tout Inclus" An All Inclusive Exhibition