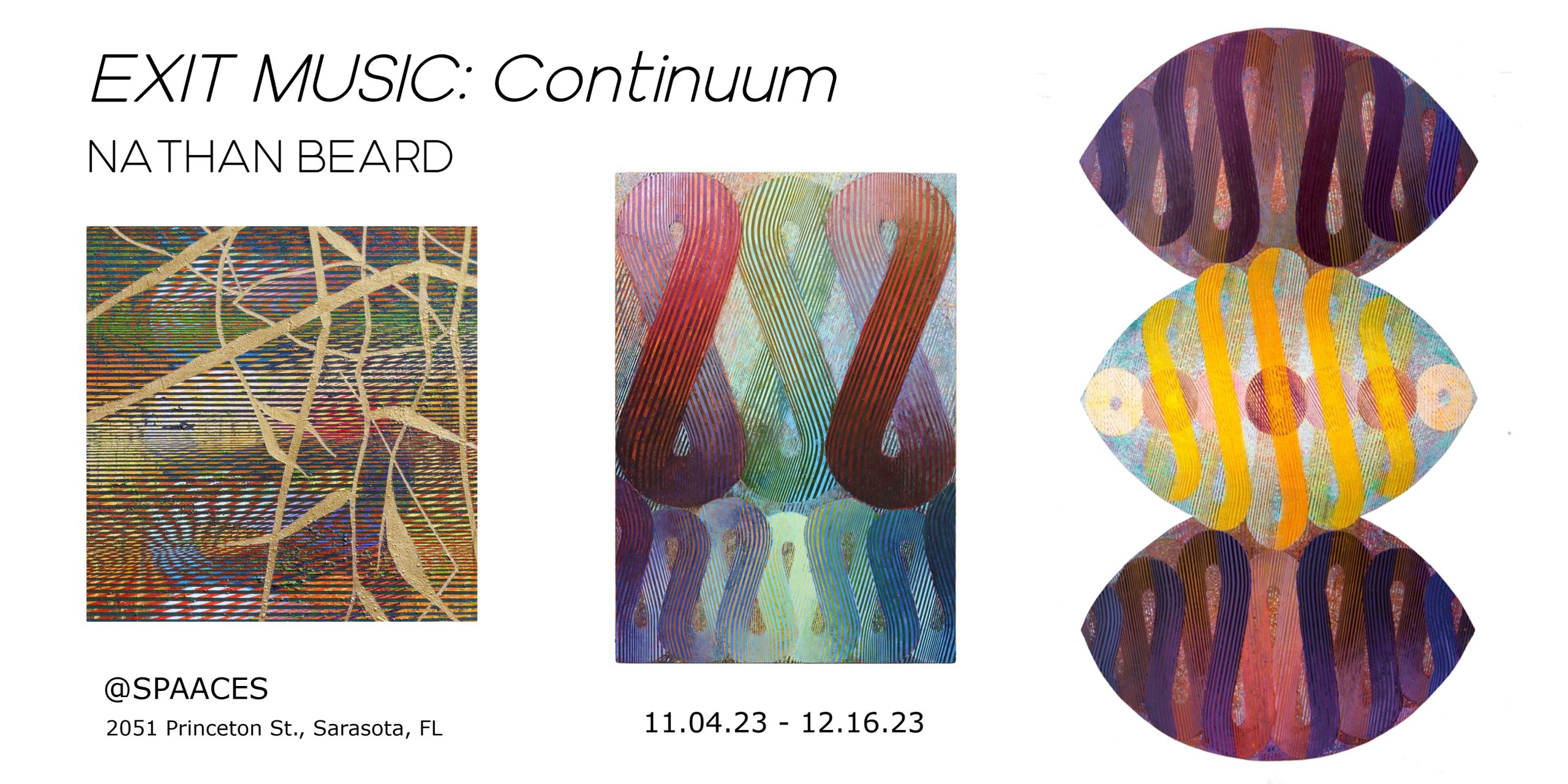 Description:
Played as patrons leave a movie or theatrical performance, exit music helps usher our senses from the imaginary world back to the mundane. Beard employs Exit Music as a metaphor for transition through liminal space. Meditating upon the connective patterns underlying events at vastly different scales, he seeks a deeper understanding of the intricate relationships between matter, space, energy and time. Of special interest to Beard are the quandary of ultimate origin, the paradox of the inwardly infinite, and the profound effects of fallible memory upon the transmission of history, shaping of culture, and dynamics of personal relationships.  Beard's richly-layered Exit Music paintings combine playful Abstract Expressionism with fields of color that transition slowly through color and temperature. He slices blue painter's tape, strip- by-strip, and methodically applies it to create cyclic patterns that enhance the dimension and movement of roughly-hewn serpentine forms floating in an expressionistic soup. Beard often chooses colors for their metaphorical possibilities, and the dance between chaos and order helps him meditate upon the weaving of human will with natural forces as a creative activity that sculpts Space-Time to our adaptive needs and desires.
Nathan Beard:
Beard received a Bachelor of Fine Arts from Colorado State University in 2001, and worked as an Art Consultant in Denver, CO for seven years. He grew up on a dairy farm in western New York. Beard has exhibited extensively since 2013, including Tampa Museum of Art, JADA Art Fair (Miami), Fukuoka Asian Art Museum (Japan), Dunedin Fine Art Center, Hillsborough Community College, Morean Arts Center, and Highlands Museum of the Arts; and in 2019, at Leepa-Rattner Museum of Art, Leslie Curran Gallery, Gaze Modern, Olivet Nazarene University, and Brooker Creek Preserve. His work is in several private and corporate collections, including B2 Communications, MHK, Penny Hoarder, Osprey Properties and Tampa Bay Title.
Dates:
Opening Night Reception: November 3rd, 2023 | Friday 6:00 – 8:00pm
Exhibition Dates: November 3rd – December 16th | Gallery Hours Thurs, Fri, Sat, 11-3 or by Appt.
Lecture Program: Nathan Beard Art December 16th | Saturday 10am – 12pm
Tickets Members $10 Non-Members $20 must reserve online, Hybrid In-person/Zoom