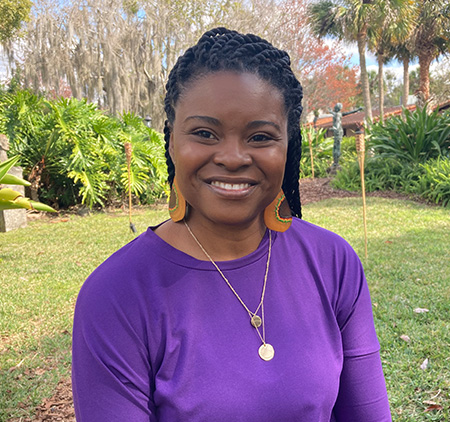 ALICIA BROWN
Born in 1981, St. Ann, Jamaica. Alicia Brown is a contemporary realist oil painter. She received her BFA in Painting, and a diploma in Art Education from Edna Manley College of the Visual Performing Arts and an MFA in Painting from the New York Academy of Art in 2014. She has been a recipient of the Dawn Scott Memorial award from the Jamaica Biennial 2017, two Elizabeth Foundation Grants 2019 and 2021, the Joan Brady Foundation Grant 2013 and LCU Foundation Grants 2012 and 2014. Alicia has attended residencies at the Leipzig International Art Program in Germany and the Cutty hunk Island Artists' residency in Massachusetts. Exhibitions have included the 2017 Jamaica Biennial, Prizm Art Fair Miami, Jamaica Spiritual 2017 London, Painting the Figure Now 2019 Wausau Museum of Contemporary Art. She has had a solo show at Studio 174 in Kingston, Jamaica 2016 and Virago Gallery, Seattle Washington 2019. Her work has been featured in Beautiful Bizarre magazine, American Art Collector, Painting the Figure Now 2019 magazine, SHOUT MIAMI magazine, ARTIT voice of Artists Magazine, Caribbean Quarterly Journal and other publications. Her work is in notable collections such as the Bennet Collection of Women Realists and other private collections.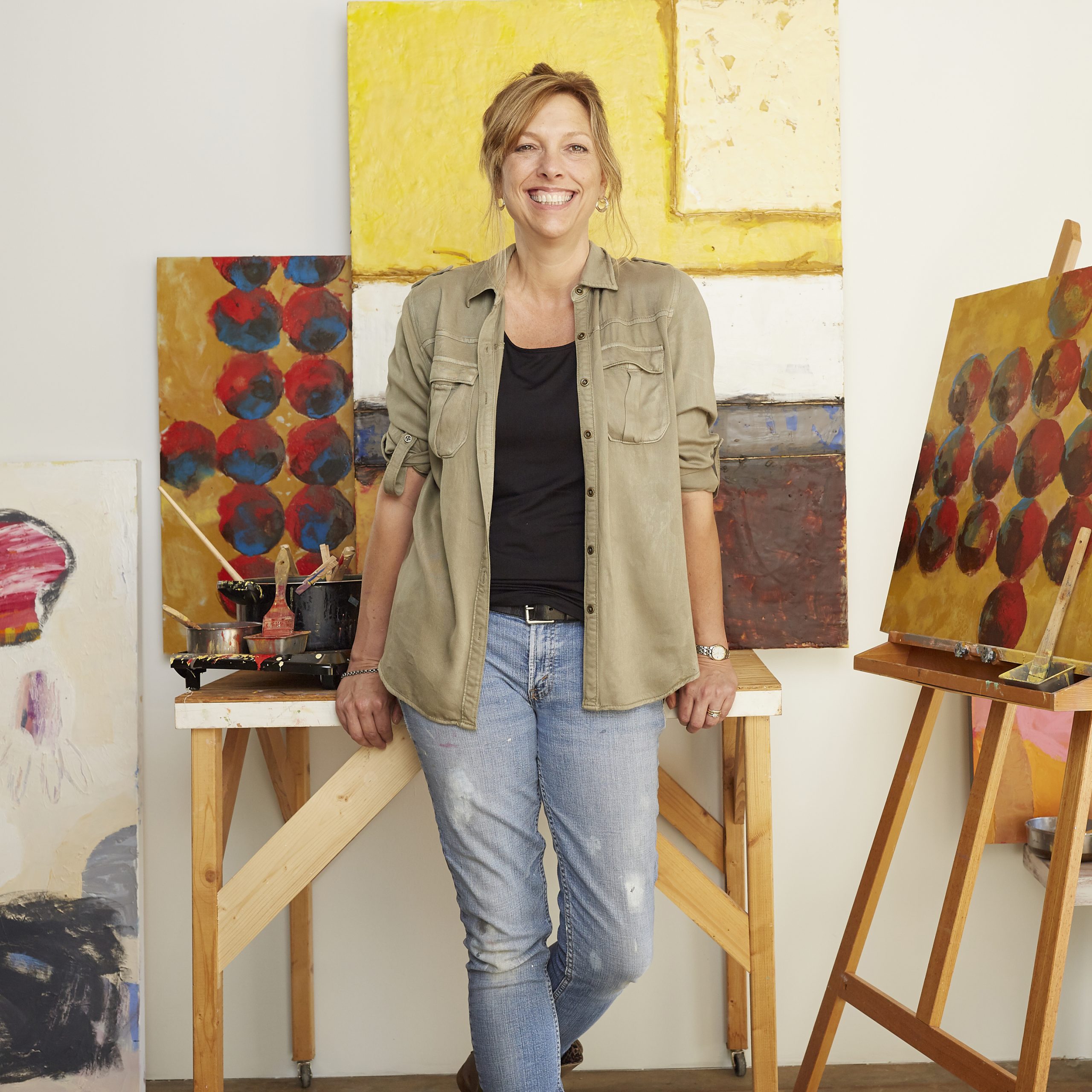 MARIANNE CHAPEL
Marianne Chapel is an artist, an instructor of Fine Art at the Ringling College of Art and Design, and the founder of a new art gallery with art studios in Sarasota called SPAACES. At SPAACES, Marianne specializes in high caliber, new forms of contemporary art and community collaborations. She has her Masters in Fine Art Painting from Indiana University and has been instructing art at the college level for over 20 years. Marianne has an extensive exhibition and grant record, and a working art studio in downtown Sarasota. She is currently practicing a form of art new to Sarasota called Socially Engaged Art. She is a dedicated advocate for artists and is building SPAACES to provide better working conditions and studios for Sarasota artists.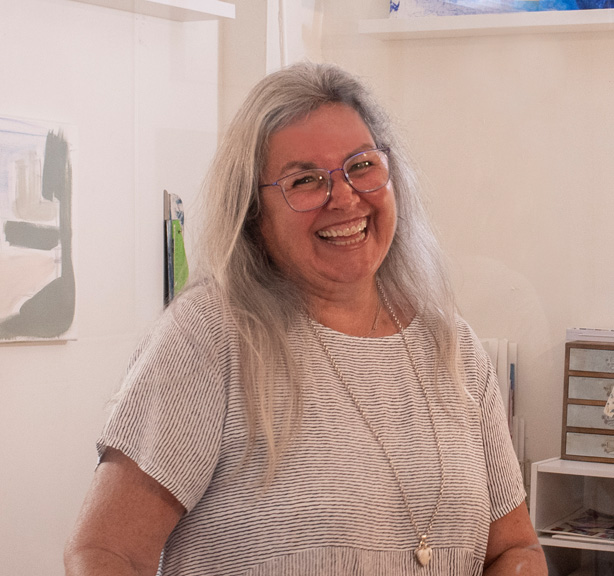 LEL EDMONDSON

Lel Edmondson, an emerging artist resides in Sarasota, Florida. Originally from Cambridge, England, she moved to America 35 years ago. She has always created in one form or another, and extensive travel, living in other countries and working with different fabrics and fibers has contributed to her love of art in many forms. In Chicagoland, she owned and ran a large and popular yarn store, teaching and supporting thousands of students in multiple fiber arts over the last twenty years. Now, exploring watercolor, acrylic, collage and mixed media her work is a mixture of representation and abstraction. Her use of color is a key factor, but the work is always playful and experimental. A 2021 graduate of the Creative Visionary Program, she is loving the excitement and freedom that SPAACES offers to continue the play and discovery fostered by mentor Nicholas Wilton. Her work can be found in New York, Illinois, South Carolina, Massachusetts, Switzerland and England.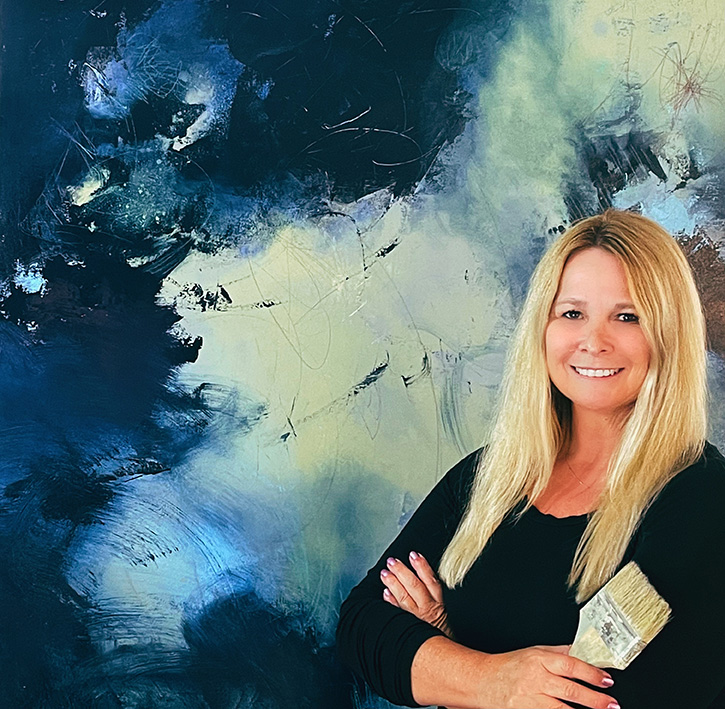 STEPH GIMSON
Born and raised in Hong Kong to British parents, Steph moved to and studied in London as a young adult. It was there that she embarked on a prestigious career as a celebrity make-up artist working with the likes of David Bowie and the Royal Family to name a few. In her spare time Steph began painting to expand her desire to create. Steph had a brush or mark making tool in her hand everyday day for the next 40 years. After a highly successful career as a makeup artist in London and Europe, Steph moved to Sarasota, Florida. There she swapped her substrate from human faces to canvas and found herself painting more and more which finally allowed her the ability to fully express herself. Steph is mainly a self-taught painter but also an alum of The Creative Visionary Program under the guidance of famed artist Nicolas Wilton.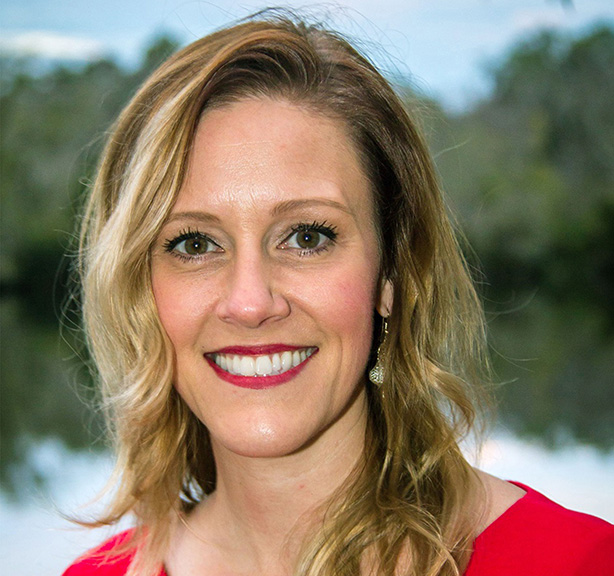 CASSIA KITE

Cassia Kite is an interdisciplinary artist who created Soundstitching, a multimedia project that transforms color from a hand-stitched image into a musical composition that can be interpreted by a musician and/or performance artist. Kite has collaboratively produced large-scale work for chamber ensemble and dancers using color-coded graphic scores derived from her hand-stitched tapestries. Kite's work was premiered at KANEKO in Omaha, Nebraska in July of 2017. She has been featured as an experimental composer and visual artist in music festivals, museums and universities. Kite has been awarded artist in residence at the Kimmel Harding Nelson Center for the Arts in 2018 and The Hambidge Center for Creative Arts and Sciences Residency Program in 2019. She is the recipient of the Paul J. Smith Excellence in Fibers Award from the Fiber Art Network 2018 and the Dixon Ticonderoga Award of Excellence from the Florida Art Education Association in 2019.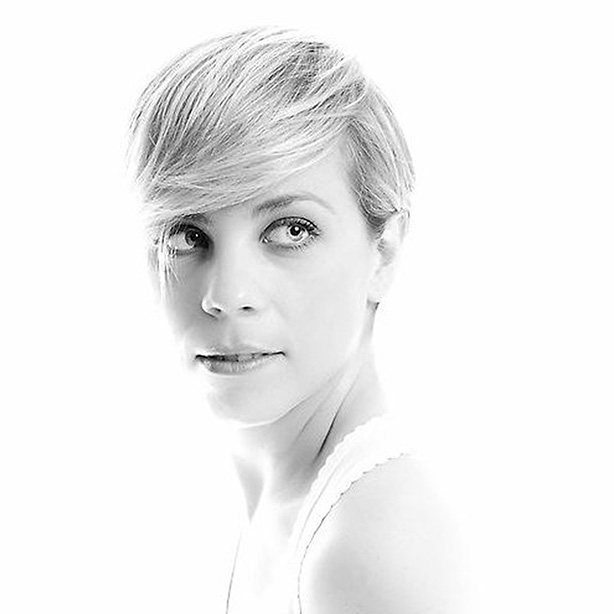 JESSICA MOWERY
Jessica Mowery is a practicing contemporary artist with a Spaaces studio. She has a varied professional background that has included selling vehicular armor, running an accomplished interior architecture studio and is currently a cryptocurrency analyst. Jessica is also the co-founder of a private NFT investment fund launching in 2022. The fund is committed to bringing together unique talent and licensing opportunities for artists, creators and investors. Jessica will provide a broad overview of the NFT market. She will break things down in layman's terms explaining the technical basics, why NFT's are important to the art market and how to comfortably purchase your first NFT.  
https://www.jessicamowery.com/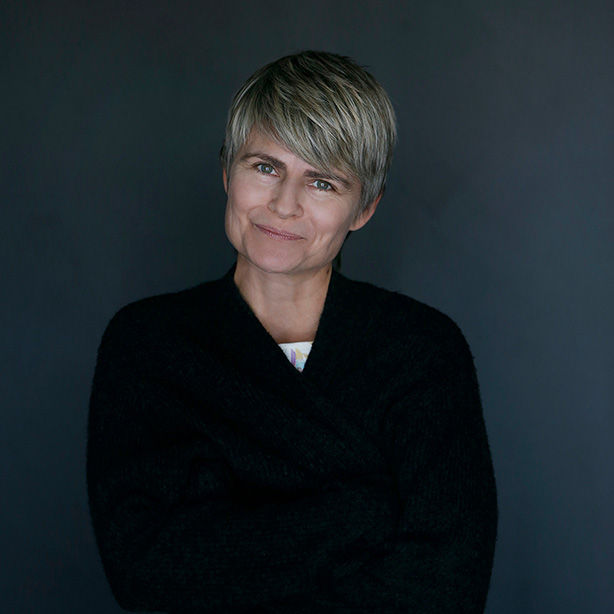 LAINE NIXON
Growing up in Oklahoma, I found refuge in the magnificent sunsets and storms of the Great Plains. There I discovered my love of the purely aesthetic/abstract/wordless experience that I express through my artwork. Working in various media including water-mixable oils and colored markers, I focus on color, pattern, and strict systems to develop non-representational paintings. My work highlights the gap between "what is" and "what could be". It is an homage to hope and possibility. 
Laine holds a BS in math from the University of Tennessee and a BFA in painting from the University of South Florida. Her work is in the collections of RBC Wealth Management, SRQ Media, and Hillsborough Community College. She is the recipient of the 2017 John Ringling Towers Fund and Hermitage Artist Retreat residency award.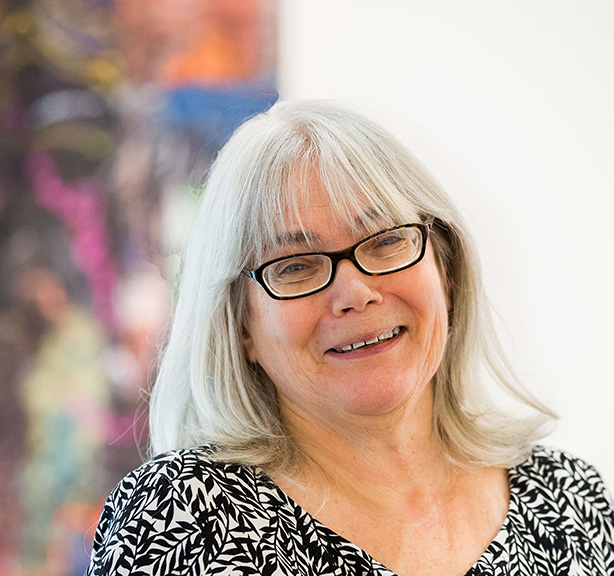 CLAUDIA RYAN
Claudia Ryan was born in Washington, D.C. in 1952. She received a Certificate of Fine Art from the California Institute of the Arts, Valencia, California in 1984, a BFA from the Ringling College of Art and Design, Sarasota, Florida in 2002 and an MFA from the University of South Florida, Tampa, Florida in 2006. She explains her artistic approach as follows: "I don't start with a final image in mind, although sometimes I have a feeling about what I want to come out. I work until something does, or I keep trying. I expect failure. I get anxious, so I do something. I am drawn to my own private world." She lives in Bradenton, Florida and works in Sarasota, Florida at SPAACES studios.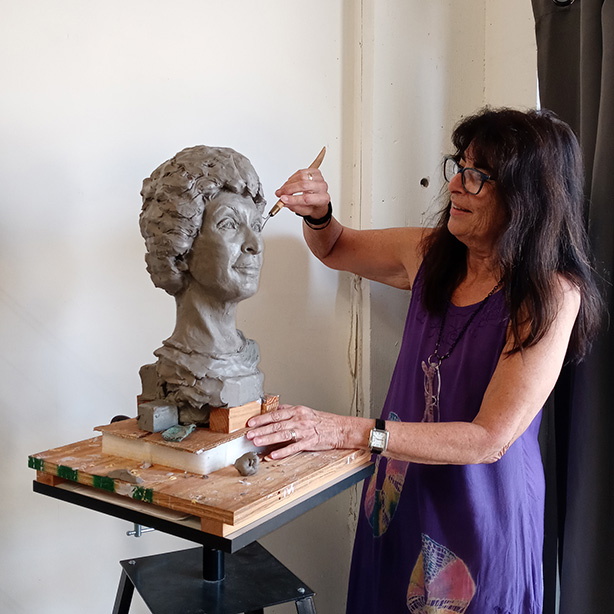 SHERYL SHAKINOVSKY
Sheryl is award-winning sculptor and portrait artist specializing in realistic portraits, figurative works and animals. She is an intuitive artist always deeply fascinated by people, their individual expressions, the human form and animals….these are her passions! She has been nationally and internationally commissioned for her portraiture.
Although she has painted a multitude of two-dimensional portraits using dry media and oil, her fascination with perspective and three-dimensional forms has led her full circle to a great love and passion for sculpture, finding this to be both natural and instinctive.  Sheryl is continuously intrigued by the flow, movement and fluidity of the figure, and, with portraiture, those fleeting expressions that happen in an instant!! With sculpture, the excitement of capturing every conceivable angle is a total joy and constant challenge that inspires and infuses her with ever-increasing energy and enthusiasm.
http://www.portraitsbysheryl.com/