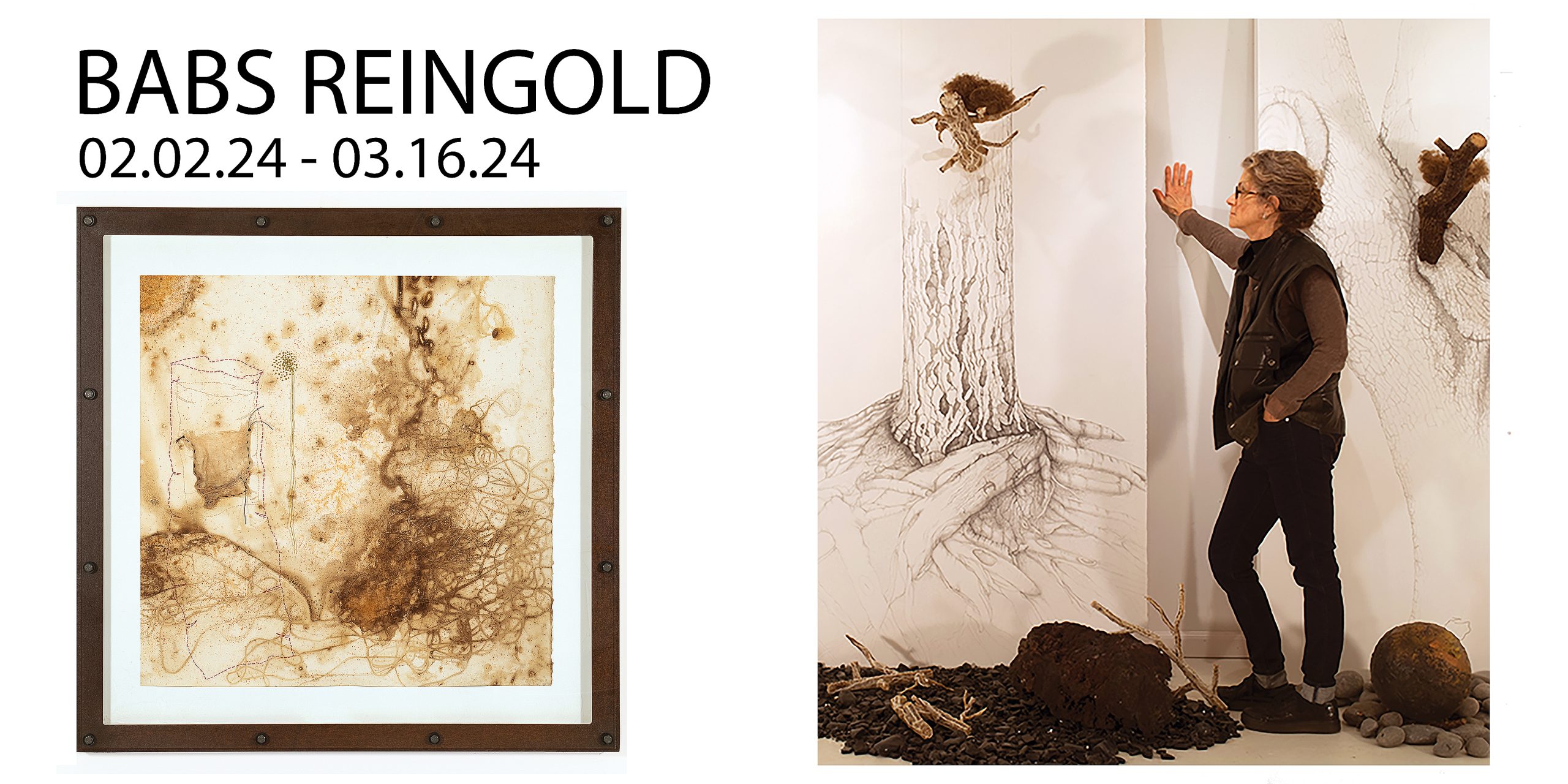 Description:
Babs Reingold incorporates a variety of mixed media materials into her work. For example her piece titled, "Hair Nest" includes 10 years of her hair loss, a seven-foot drawing of a tree, a fabricated 3-D branch, and a field of stones. Other works are constructed of glass, wax, silk, and organza or paper. Environmental catastrophes such as Katrina, and speakers such as Jared Diamond and his Easter Island lecture, inspired Reingold to turn from painting and begin creating large scale installations and three dimensional artworks describing themes of beauty and the environment. Reingold often uses hair as a signature in her work for its intrinsic links to DNA and its endearing symbolism. Many of her works communicate a frustrating lack of solutions and an internal frustration. Reingold asks the difficult question: At one point do we realize our self-destruction?
Babs Reingold:
Venezuela-born American artist Babs Reingold creates sculptures, drawings, and installations focusing on beauty, the environment and poverty. Reingold has an extensive showing history including 16 solo exhibitions and over 75 group exhibitions ranging from museums, universities, alternative spaces and galleries. Solo exhibits include New York City, Los Angeles, Atlanta, Savannah, St. Petersburg FL, Jersey City and Buffalo NY. Museum exhibits include the Newark Museum NJ, Jersey City Museum, Albright-Knox Buffalo NY, Burchfield Penney Buffalo NY, Tampa Museum and Museum of Fine Arts St. Petersburg. She has worked in museum and private collections throughout the United States including: The Newark Museum, NJ, Museum of Fine Arts St. Petersburg, FL, The Burchfield Penney Art Center Buffalo, NY and Savannah College of Art and Design.
Awards include: a Florida state fellowship, two fellowships from Pinellas County and a New York Foundation for the Arts Fiscal Sponsorship. Guest Editor for issue of arts journal New Observations, Atlantic Center for the Arts residency and a nominee for the Joan Mitchell Fellowship. Reingold has an MFA from SUNY-Buffalo and BFA from Cleveland Institute of Art. She lives and works in St Petersburg FL with viewing space in New York City.
Dates:
Opening Night Reception: February 2nd, 2024 | Friday 6:00 – 8:00pm
Exhibition Dates: February 2nd – March 16th | Gallery Hours Thurs, Fri, Sat, 11-3 or by Appt.
Lecture Program: Babs Reingold February 15th | Thursday 6:00 – 8:00PM
Tickets Members $10 Non-Members $20 must reserve online, Hybrid In-person/Zoom