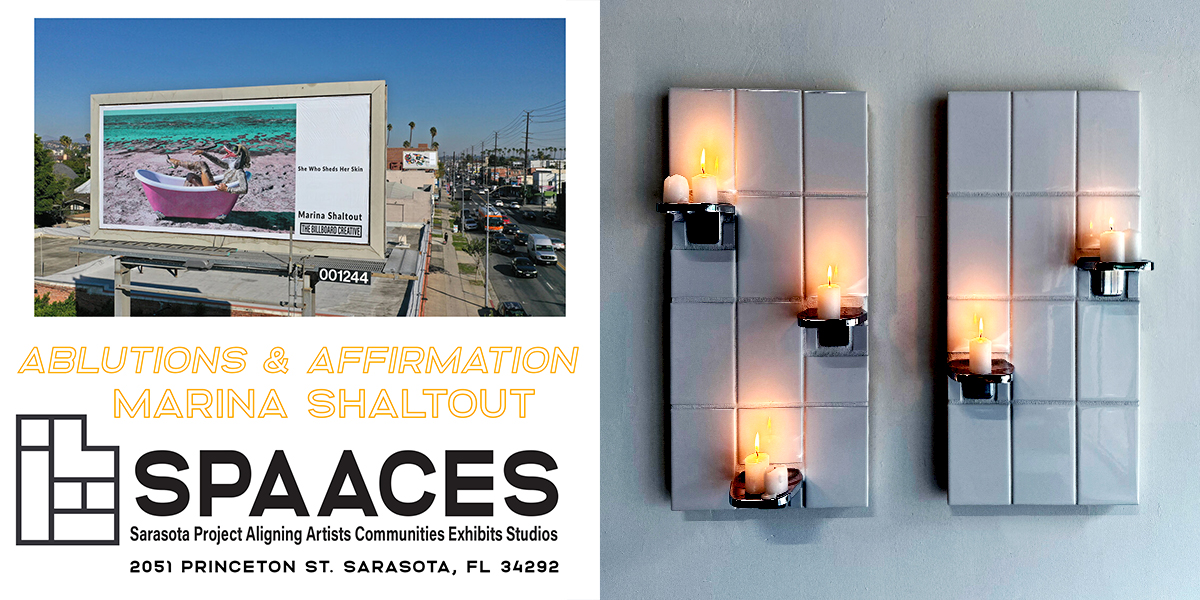 Description:
Ablutions & Affirmations critiques the commodification of "self-care" within a capitalist framework. Drawing upon familiar objects and symbolism from the intimate realm of the bathroom, I navigate the multifaceted act of cleansing – be it literal, figurative, or metaphorical – in the context of our contemporary existence. As capitalism peddles the concept of "self-care" as a panacea for the afflictions it has itself engendered, this work exposes the irony of seeking solace in a world that is increasingly destabilized by the very late-stage capitalism that promises our wellness. 
Objects reminiscent of the bathroom ambiance are curated to invoke the transitory calmness we experience when we indulge in candles, a glass of wine, and the catharsis of bathing away our proverbial sins with fancy soaps. However, the core of this work is situated in the tension between bedazzled objects and strands of hair clinging to tiled walls. In this regard, I ask my audience to sit with the uncomfortable interplay between the glamorous and the grotesque, inviting a reflective pause in the face of societal contradictions and beneath the veneer of superficial comfort.
Within the intricate tapestry of today's global landscape, marked by economic uncertainty and volatile political currents, surviving (and thriving) proves increasingly difficult. The futile affirmations and ablutions in this body of work remind us that no amount of "live-ing, laugh-ing, or love-ing" can immediately remedy the larger issues within our society. Nor can the most perfect bath bomb or bar of soap heal our soul.
Marina Shaltout:
Shaltout received her MFA from the University of Arizona and her BFA from the University of Illinois at Urbana-Champaign. She has completed residencies at the Creative Centre in Stodvarfjordur, Iceland and at New Mexico State University in Las Cruces. She has exhibited work nationally and internationally in venues such as Alte Munze in Berlin, the Cinematograph in Innsbruck Austria, the Living National Treasure Museum in Tokyo, the Czong Institute in South Korea, the Royal Photographic Society in Bristol, the Museum of Contemporary Art Tucson, the Red Room in Baltimore, and on a billboard in Hollywood California (as part of the Billboard Creative). Shaltout is a recipient of the Marcia Grand Centennial Sculpture Award, a Creative Achievement Award, and two Medici Scholar project grants. She currently teaches at Ringling College of Art and Design as a Visiting Professor in Fine Arts and Visual Studies.
Dates:
Opening Night Reception: October 6th, 2023 | Friday 6:00 – 8:00pm
Exhibition Dates: October 6th – 28th | Gallery Hours Thurs, Fri, Sat, 11-3 or by Appt.
Lecture Program: Marina Shaltout October 26th | Thursday 6-8pm
Tickets Members $10 Non-Members $20 must reserve online, Hybrid In-person/Zoom