A Solo Exhibit by Allan Mestel No Justice, No Peace | Ringling Student Jesse Clark My Beautiful in the Annex Gallery
No Justice No Peace | Allan Mestel
February 2022
Allan Mestel has been in the visual arts business for more than 25 years as an award-winning photographer as well as a director of TV commercials, films and music videos. He currently lives in Bradenton, Florida with his wife and two young children. However, he is originally from Toronto, Canada, so his work has been exhibited from coast to coast in the US as well as Europe and the UK. 
He specializes primarily in portrait and documentary work that focuses on social justice and human rights. 
No Justice, No Peace, is an exhibition that showcases images from Mestel's current passion project. He is working on a book of photos of street activism, captured over the course of the last four years, during the Trump administration. The photographs on display were specifically captured during the 2020 Black Lives Matter protests. 
In May of 2020, the country was shocked by the murder of George Floyd due to the cause of police brutality. Mestel's images capture the passion of individuals who strive to end racial injustice. They are evidence that these individuals have a voice and that people are listening and want change.
Mestel's work has received award recognition, and one of his images, "Children of Matamoros", is featured in the 2020 Human Rights Art Exhibit.
More of his work can be seen on his website allanmestel.com.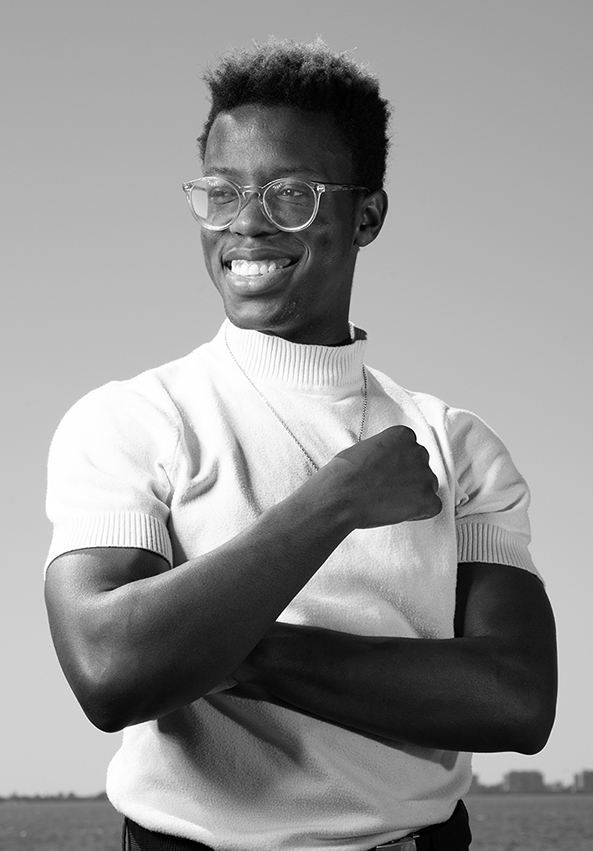 My Beautiful | Jesse Clark
February 2022
Jesse Clark's "My Beautiful"  an ongoing project that observes finding beauty within the self. It explores the idea of the black boy holding a beautiful image as well the freedom to express vulnerability and joy. This is a project combining photos from other my photography series' "Through Dark Eyes" "Black Boy" and "Carriers" which explore my thoughts and emotions as a young black male in America. These pieces reflect what I find true about my own image and how it does not fill the conventional mold my complexion renders. Jesse Clark is a Haitian born Fine-Art Photographer and a student at the Ringling College of art and Design, majoring in photography and imaging. His works discuss social issues, identity, and overcoming adversity. With vibrant color and a background in dance, Clark creates narrative-like portraits descriptive of the inner world of his subjects, with beauty and intimacy.  https://www.jesseclarkart.com/